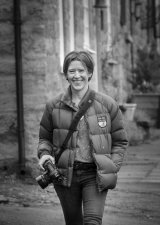 Lucy is a photographer based in England's rural North Yorkshire. She has a particular interest in documenting how we live, particularly in rural landscapes.
Her major long-term project explores her fascination with the rhythms of everyday life: as James Ravilious put it, '
the washing up, not the news
'. It is, after all, how we spend our days that determines how we spend our lives. OF LIFE AND LAND documents individual and overlapping stories within a single, rural North Yorkshire village. A selection of this work has been self-published (Of Life and Land, 2018) with support from Ryedale District Council and a larger collection will be published by Bluecoat Press in 2020.
Lucy has exhibited regionally and nationally, including at the
Mall Galleries
as a finalist in the
Pink Lady Food Photographer of the Year Award
2015 and 2016; and at the
Prince's Foundation
as Winner of Craft Photographer of the Year 2015.
In 2019 Lucy reached the final round of the
British Journal of Photography
Portrait of Humanity.
In 2018 Lucy was shortlisted for the
Royal Photographic Society's
International Photography Exhibition 161 and was nominated for the RPS
Hundred Heroines
.
In 2017 'Coconut slice' was Highly Commended in the
Bowes Museum
's Only in the North.
In 2015 Lucy reached the second round of the
National Portrait Gallery
Taylor Wessing Photographic Portrait Prize.
COMMISSIONS
In addition to her own work, Lucy undertakes commissions. Please don't hesitate to get in touch for any more information.
OF LIFE AND LAND (see
PROJECTS
)
Lucy's long term project, Of Life and Land, examines her home village and its landscape.
In a corner of North Yorkshire, Ampleforth lies tucked along the hillside below the moors. The place, like any other, holds the stories of the lives of its inhabitants, both past and present. Spending time in one location, looking at the ordinary, every day goings-on, the layers and connections among individuals begin to surface, revealing the entwined threads of people's lives. This community has been here since records began: some of its families can be traced back to the Domesday Book; but some have been here only a short time. Some will stay for their forever, and some will soon be gone. For now, its people leave impressions on each other and on the place - and in turn, the place leaves its mark on them.
Since 2013 Lucy has photographed this unique and yet universally resonant community and its landscape, with a particular concentration on the timeless certainties most vulnerable from our current modernising, tidying, technological society.
"
These wonderful photographs are poems and short stories; they are miniatures and epics; they are tiny movements at the edge of the folding map and huge gestures at the vortex of the turning world.

Lucy Saggers's images have the timelessness of cave paintings but, somehow the modernity of Instagram. We share their humanity and they amplify ours.

Swim around in these deep, deep photographs and then look around your own street, your own village, your own neighbourhood and try and find the timeless stories there because in the end none of us, as Lucy Saggers proves, is very far from the centre of things.
"
Ian McMillan
"Lucy Saggers is a modern visual poet."
Joe Cornish
PLEASE RESPECT THAT ALL PHOTOGRAPHS ON THIS SITE ARE COPYRIGHT ©LUCYSAGGERS.
ALL RIGHTS ARE RESERVED.
REPRODUCTION/COPYING IS NOT PERMITTED WITHOUT PERMISSION - BUT DO FEEL FREE TO ASK.