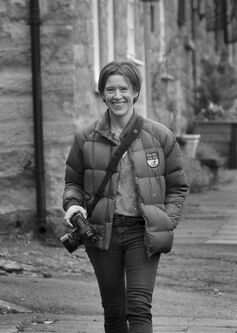 Despite growing up in the city (Oxford), I have always been drawn to photographing stories of rural landscapes and the lives they hold. Now based in rural North Yorkshire I am interested in the impressions we leave on each other and the land, and in turn the marks a place may leave on us. Central to my practice is spending time developing understanding and trust between my subject and me, allowing a natural authenticity into my documentary portraits. To emphasize key elements of light, composition, and texture I often work in black and white: perhaps it also better conveys the timeless, universal resonance of the unending rhythms of life? Using a handheld camera, available light, and techniques to reach into the shadows in dark domestic and agricultural interiors, I can remain unobtrusive, and produce photographic prints with an honest immediacy and evocative quality.
My major long-term project, A Sense of Place, describes deep connections among individual and overlapping lives within a single rural North Yorkshire village. With funding from
Ryedale District Council's Creative Economy
a selection of this work was self-published (Of Life and Land, 2018). In 2020 a larger collection, A Sense of Place, will be published by
Bluecoat Press
.
RECENT HIGHLIGHTS
2019 final round
British Journal of Photography
Portrait of Humanity
2018 shortlisted
Royal Photographic Society's
International Photography Exhibition 161
2018 nominated RPS
Hundred Heroines
2017 highly commended
Bowes Museum
Only in the North
2015 winner, Craft Photographer of the Year, Prince's Foundation, London
2015 second round
National Portrait Gallery
Taylor Wessing Photographic Portrait Prize
COMMISSIONS
In addition to her personal work, I undertake commissions, talks, and workshops.
Please don't hesitate to get in touch for any more information.
"Lucy Saggers is a modern visual poet."
Joe Cornish, 2018
PLEASE RESPECT THAT ALL PHOTOGRAPHS ON THIS SITE ARE COPYRIGHT ©LUCYSAGGERS.
ALL RIGHTS ARE RESERVED.
REPRODUCTION/COPYING IS NOT PERMITTED WITHOUT PERMISSION - BUT DO FEEL FREE TO ASK.